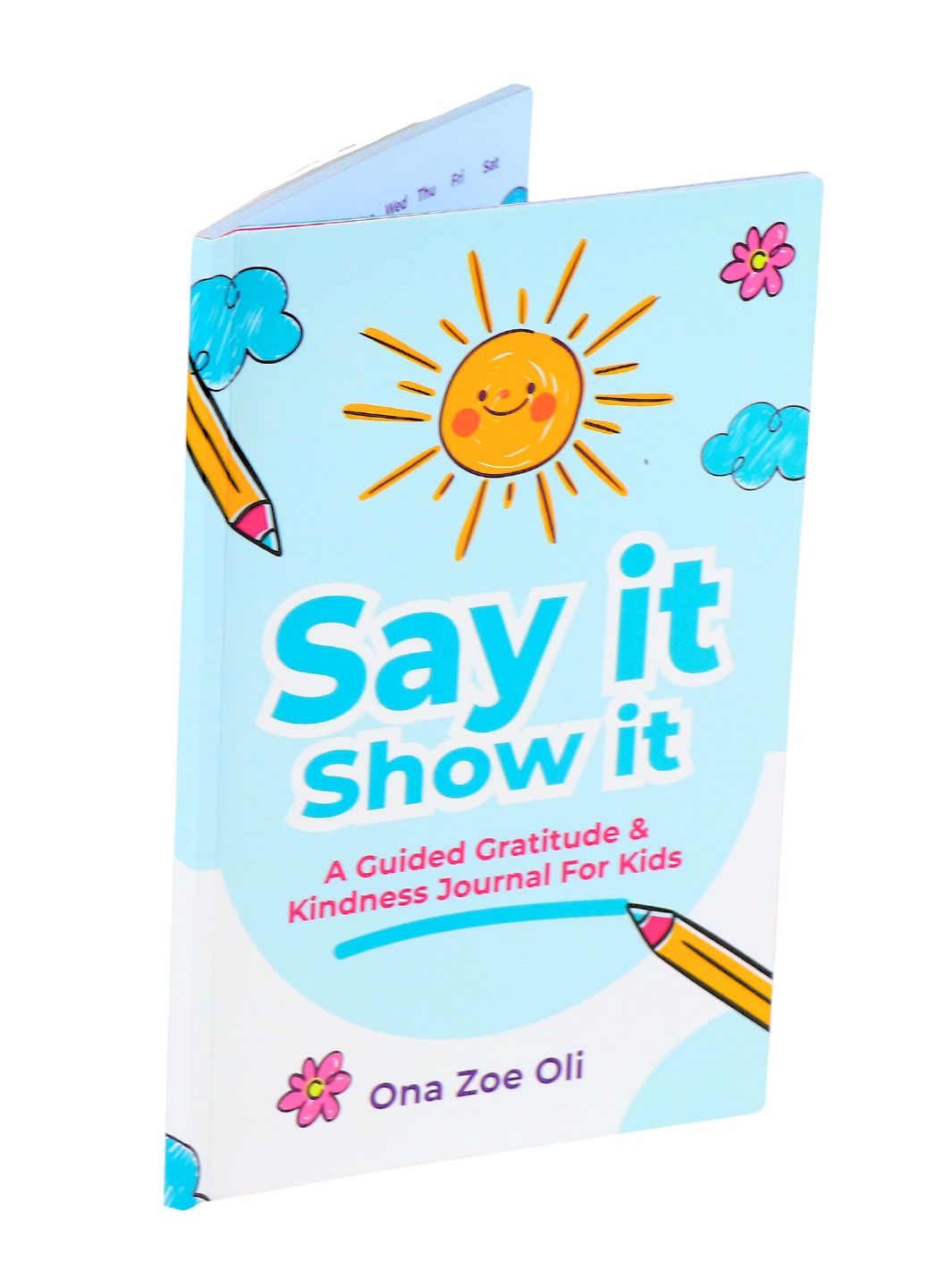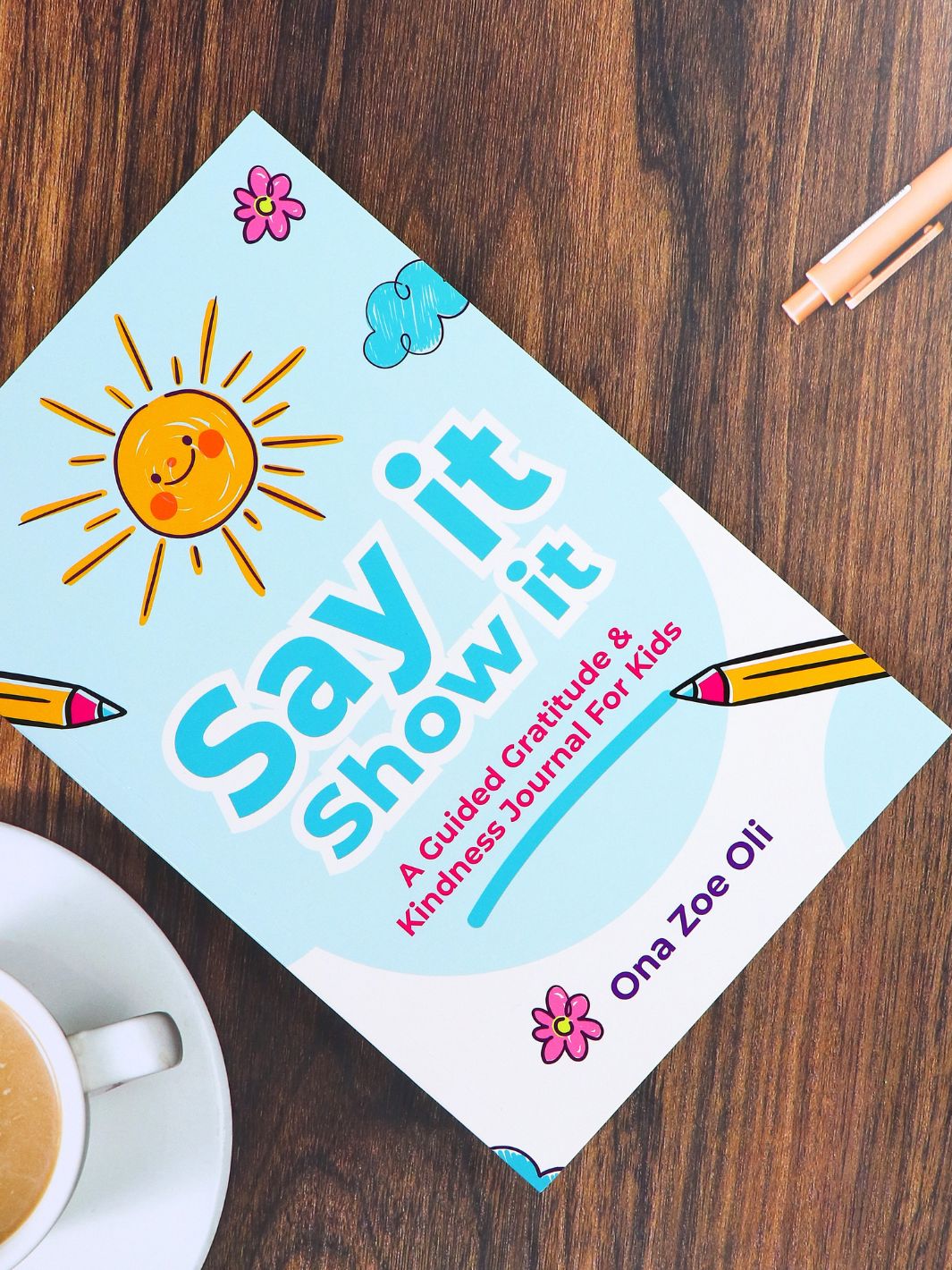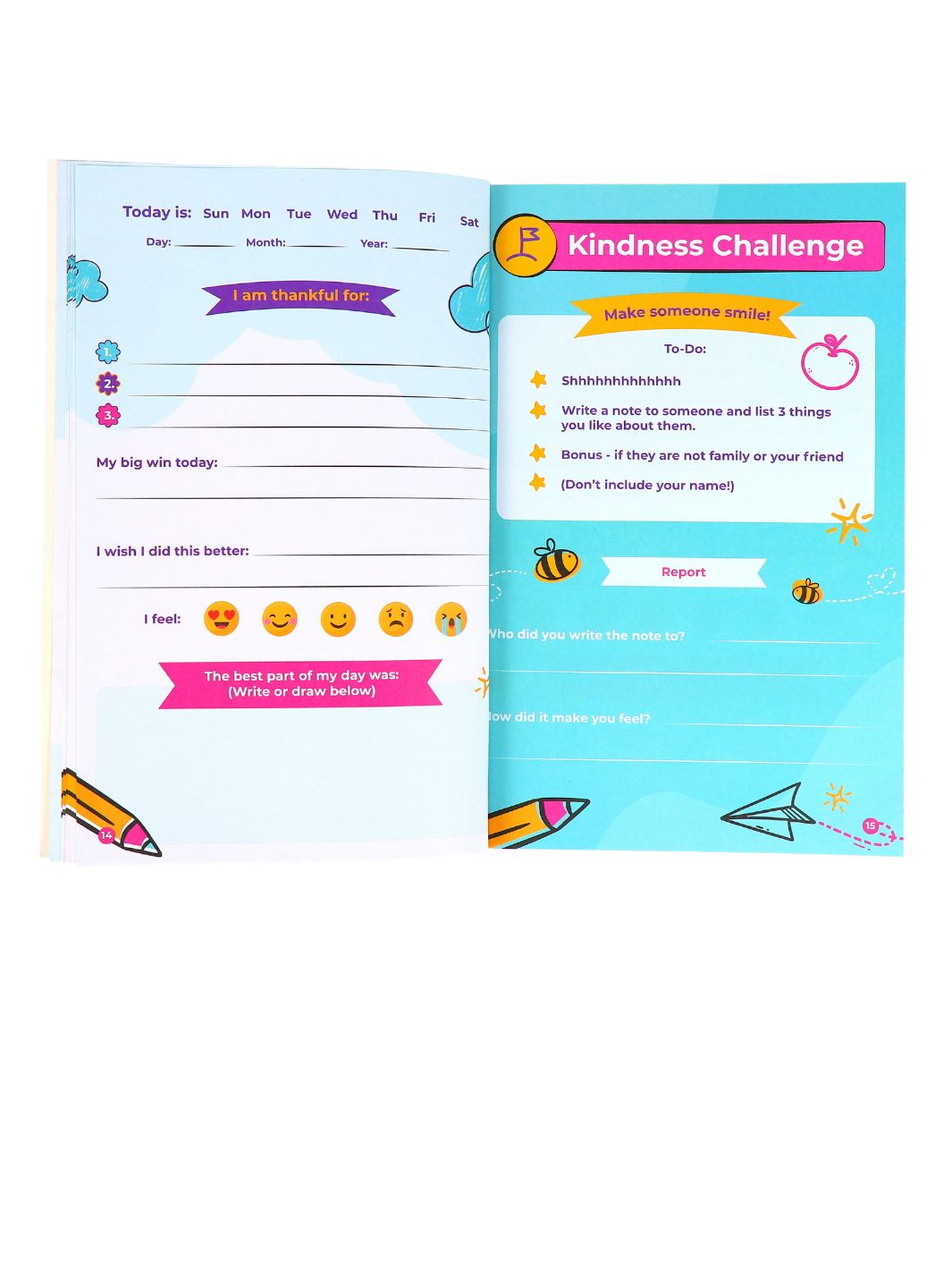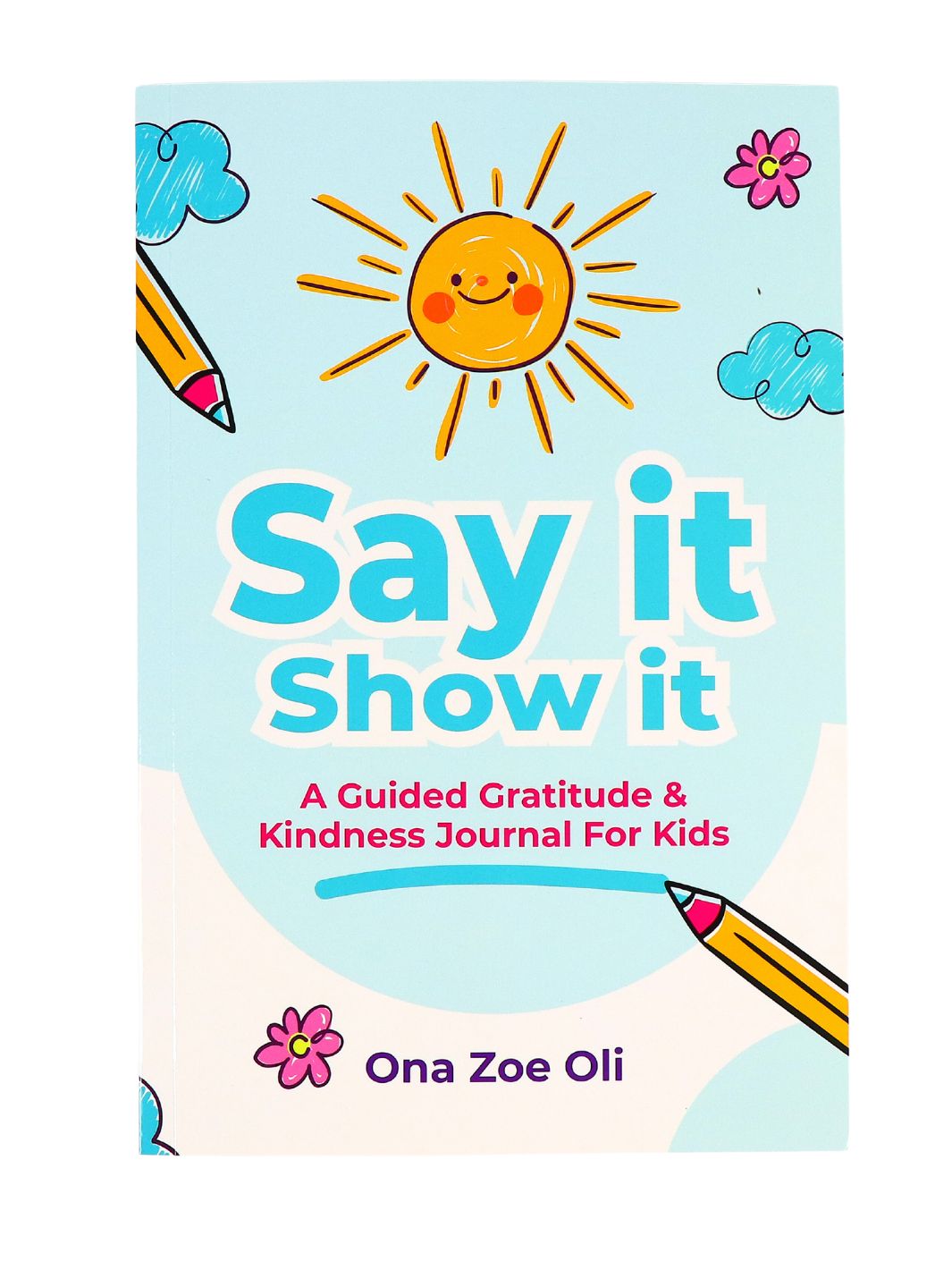 Say it, Show it- Gratitude & Kindness Journal by Zoe Oli
New - 60 day format with more interactive activities and challenges! 
Do you want your children to practice gratitude and be more kind? Looking for a simple activity book that your child ages 4-8 can get into daily? If yes, then "Say it Show it, A guided gratitude and kindness journal for kids" is the perfect tool for children 4 and up to cultivate mindful habits and an attitude of gratitude.

With easy to follow prompts and kindness exercises, this gratitude journal is a great tool for parents to keep up with their kids to better understand how they are feeling and also for children to be more self-aware and increase their thankfulness factor.

Each page is well designed and contains space for kids to list out what they are thankful for as well as their feelings about the day.

There are also kindness exercises that are perfect for children to share goodness with others. It is a perfect gift for every boy and girl to use every single day.

Teachers can use this gratitude and kindness journal for classroom exercises.

This journal also makes the perfect gift for any child ages 4-8 for birthdays or just for everyday
A 6" x 9" paperback book with 76 pages.
 Let's raise grateful, mindful and kind global citizens. Share this daily gratitude journal for kids ages 4-8+ with a friend! 
In stock, ready to ship

Inventory on the way
Allow 1 business day for order processing.
FREE SHIPPING OVER $75 WITHIN THE U.S.A.
We know. It's a pretty cool deal.  

All orders shipping to a United States address receive free shipping when your shopping cart equals $75 or more, after any applicable discounts. 
WE SHIP FAST!
Please allow 1-2 business days for order processing. Once your order is processed,  it will be shipped via USPS unless otherwise selected. Free Delivery Confirmation is included with each shipped package. Once shipped, delivery of U.S. package(s) should occur within 3-5 business days unless there are other circumstances such as holiday rush etc.
AND YES, WE SHIP WORLDWIDE!
International package(s) ship via USPS Priority International and should arrive in approximately 6-15 business days after your order has processed. International orders aren't eligible for free shipping at this time. 
WE TRY TO MAKE SHIPPING EASY, HELP US KEEP IT SIMPLE
Shipping times are an estimate & may be subject to USPS delays. Beautiful Curly Me is not responsible for delayed shipping on the part of USPS and is unable to provide full or partial refunds for shipping that is due to an error or delay on the courier's part.
INCORRECT SHIPPING ADDRESS POLICY
1). The purchaser is responsible for providing the correct mailing address. Before finalizing your order, be certain your shipping address is correct. 
2). We are not responsible for goods delivered to the wrong address input at the time of ordering. 
3). If you happen to notice that you entered the wrong address, you can email us at hello@beautifulcurlyme.com with the correct shipping address before your shipping label is created. 
4). Once your shipping label is created, we will not be responsible for the incorrect address & the subsequent delivery.
RETURNED TO SENDER POLICY
1). If a package is returned to Beautiful Curly Me due to an incorrect or incomplete shipping address provided by a customer, or if USPS required the customer to be home at the time of delivery and the customer was not home for delivery, the customer will be responsible for the cost of Beautiful Curly Me to reship the package back to them, as well as, any additional delivery cost.
2). Beautiful Curly Me is not responsible for packages delivered incorrectly or lost due to incorrect or incomplete shipping information provided by a customer.
3). No refunds will be provided if any part of the address is incorrect.
LOST OR STOLEN PACKAGE POLICY


If your package is lost or stolen, we are so sorry to hear that! Please see below:
1). Beautiful Curly Me is not responsible for lost or stolen packages that have a confirmed delivery to the address entered for an order.
2). Upon customer inquiry, Beautiful Curly Me will confirm delivery to the provided address, date of delivery, as well as, tracking & shipping carrier information for the customer to investigate. 

3). If after the customer has directly contacted the carrier, and the carrier is unable to locate the missing package, please contact us at hello@beautifulcurlyme.com with the case number provided from the carrier and we will further assist.
Thank you for being a valued customer!
We offer an unprecedented Beautiful guarantee: If you don't love our products, send them back within 15 days in the original packaging - unused and in new condition and we'll refund 100% of the product purchase.
That's it! YOU'VE GOT ABSOLUTELY NOTHING TO LOSE  
Please note: We do not accept returns on Sleepcaps for sanitary reasons. 
We are so completely confident in the quality and benefits of our products that we will accept any item back within 15 days of purchase for a full refund of the product purchase price, excluding the original shipping. 
We know you'll love our products. However, in the rare event that you don't love them and you wish to return your items, please contact us at hello@beautifulcurlyme.com with a refund request.
A 100% REFUND, EXCLUDING SHIPPING & HANDLING FEES, WILL BE PROCESSED UPON RECEIPT OF YOUR RETURN
We must receive the original packaging and product within 15 calendar days of original date of purchase in order to process your refund. Customers are responsible for ensuring their returns are received by Beautiful Curly Me within the 15 day return period. Without exception, returns received after 15 days will not be refunded. Please note that regardless of when a return request is submitted below, if the returned item(s) are not received within the 15 day period, the return will not be honored.
Customers are responsible for the cost of shipping their returns or exchanges back to us.
Refunds are typically processed within 10 business days of Beautiful Curly Me receiving returned product(s). 

NOTE: This return policy is applicable to items purchased only at www.BeautifulCurlyMe.com.  We are not affiliated with or responsible for the return policy of other retailers, including those online and offline.